Samantha Gabriella Kelly
Biographical information
Name

Samantha Gabriella Kelly

Age

40, April 28th 1974

Gender

female

Physical information
Hair

Medium grey,brown

Eyes

Brown

Height

5"5

Family information
Family members
School characteristics
Like

Clean Fresh Showing off Being pretty

Grade

None

Popularity

None
Mrs. Kelly is the wife of Mr. Kelly and mother of Jamie Kelly.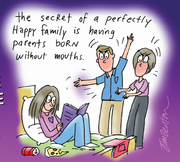 Biography
Edit
She is well known for her terrible cooking, although she is very good at making appetizers. She constantly makes bad meals that Jamie and Jamie's dad cringe at, although they barely ever say anything, so they do not hurt her feelings and so she won't talk about Wheretheheckistan. "Mom's cooking makes Crafty Napkin Draping an essential survival skill around here." says Jamie.Jamie's Mom likes to hold yard sales for 3 cents and talks about how the children in Wheretheheckistan would just love to eat her cooking while as Jamie phrased it "The children in Wheretheheckistan already have enough problems without dumping Mom's casserole on them too. Jamie's mom cares for her although she doesn't appear in many problems that Jamie has. Jamie's mother once started making hideous clothes(including ties, hats, shirts, and skirts) that looked like monkey's vomit.